RO DM Water Plant Manufacturers-
Demineralization Water Plant
An Overview of RO DM Water Plant Manufacturer/Demineralization Water Plants manufacturer
Acroama water Treatment System is one of the best in RO DM water plant Manufacturers/ Demineralization water plant in Chennai India. DM Plant known as demineralizer or demineralizer is also known as DI or deionized.
What is Demineralization Water Plant (DM Plant)?
Demineralization water plant is the process of removing mineral salts from Raw Water by using the ion exchange process. Raw water from well, bore or any source will have dissolved salts in ion form.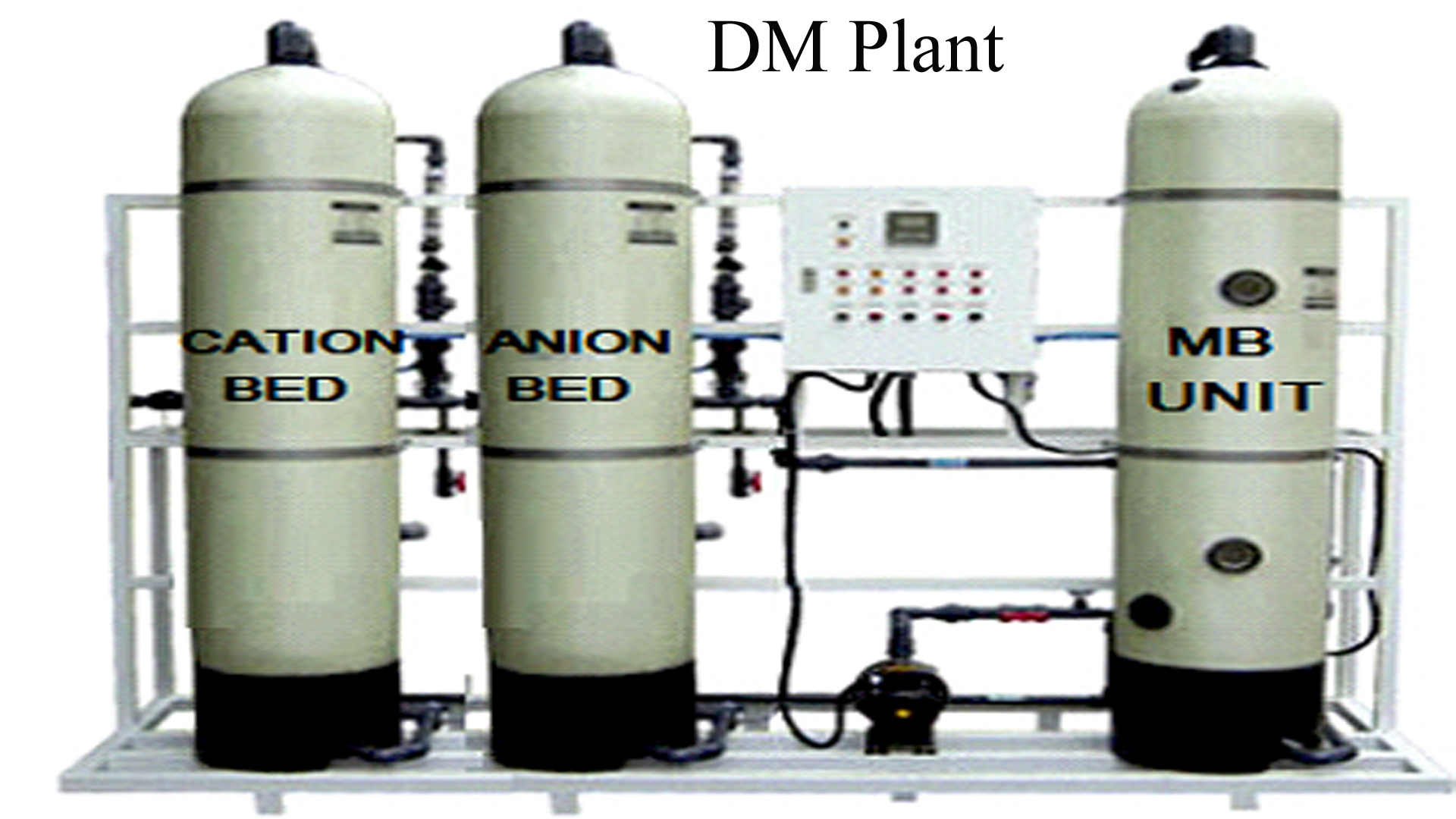 Demineralised Water is Water completely free from dissolved minerals using following process:
Reverse Osmosis -Deminerilaztion Plant (RO DM Plant)

Distillation Process

Demineralization Process (DM plant)

Electro Deionization Plant (EDI Water Plant)

Demineralized Water ( DM Water Plant) also known as Deionized Water, Which is free from all ions or dissolved salts.

 

Deionization is process of exchanging ions with the resins.
RO DM Water Plant Manufacturers/ Demineralization Water Plant Process

DM Water Plant is used in Industrial applications, Where as High purity of Dm Water is required and  it should be free from Ions. Acroama Water Treatment system is Best DM water Plant Manufacturers in Chennai India, Providing solution to various clients across pan India. DM water of required quality is produced from DM water plant Supplied. Acroama Water Treatment system provided DM Water plant with following combinations
1.      Reverse osmosis Demineralization Plant (RO DM Water plant)
2.      Two Bed Demineralization Plant( Dm Water Plant)
3.      Mixed Bed Demineralization Plant (DM Water Plant –MB)
Where RO DM water plant manufacturers/ Demineralization Water Plant is used?
 Boiler Feed Water in Thermal Power Plant
 Pharmaceutical Industy
 Breweries
 Hospitals
 Battery
 Fertilizers.
 Textiles
 Paint Industries
We are solution provider company in Sea water  and waste water treatment and majorly we serve our products for customers in National : Maharashtra, Delhi, Chennai, Kolkata, Bangalore, Andra Pradesh, Telugana, Pondicherry, Goa, Andaman and Nicobar Island, Karnataka, Madhya Pradesh, Gujarat, West Bengal, Assam, Odisha, etc International : Dubai, Oman, Saudi, Ajman , Mauritius, Madagascar, Bangladesh, Ethiopia, Malaysia, etc.
Acroama Water Treatment system involved in manufacturing different types of DM Water Plant/ Demineralization water plant
Commerical Demineralization water plant Manufacturers
Industrial Demineralization water plant Manufacturer
Compact Demineralization water plant (DM Plant)
Laboratory Demineralization Water Plant( RO DM Water Plant)
Demineralization Water Plant

Acroama Water Treatment System
Rated 5/5 based on 247 reviews
Sewage Treatment System
Demineralization Plant
Electro Deionization System
Waste Water Treatment System
Effluent Treatment System
Water ATM Plant

Sea Water Treatment Plant
Industrial Reverse Osmosis System
Car wash Water Treatment System

Acroama Water Treatment System
© 2019, Acroama Water Treatment System. All Rights Reserved